Where History, Heart, and the Centre of the Universe Collide!
Hold onto your hats because I'm about to spill the beans about the coolest small town in South Africa – Bathurst! Yup, it might be small, but it's bursting with character and stories that'll knock your socks off. Why's it the best? Well, buckle up, I'm about to give you the lowdown!
Time-Traveling Charm:
Picture this: Dirt roads, historic buildings, and a vibe that takes you back in time. That's Bathurst for you! It's like stepping into a history book. Ever heard of the Bathurst Toposcope? It's this epic tower where you can see the whole town – talk about a killer view!
Warm Fuzzies All Around:
You know that feeling when you walk into a place, and everyone's smiling like they've won the lottery? That's Bathurst! The folks here will treat you like family. From the local markets to the coffee  joints, you'll be greeted with grins that'll make you want to stay forever. It's like the centre of the universe for good vibes!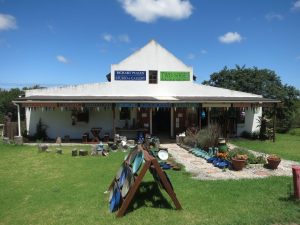 Culture Galore:
Even though Bathurst is small, it's big on culture. Art galleries, a small theatre, and local crafts – you name it, we got it! And oh, don't miss the Bathurst Agricultural Show. It's a riot of colours, showcasing our farming roots. You'll learn a lot and have a blast, all at the same time!
Nature's Playground:
Now, if you're a nature lover, Bathurst is your paradise. Think rolling hills, green farms, and the famous Big Pineapple! Whether you're hiking or just chilling, the natural beauty here will make your heart skip a beat. It's like Mother Nature herself decided to show off a bit. Trust me; you'll feel like you're at the centre of her masterpiece!
Community Vibes:
But wait, there's more! What makes Bathurst truly special is its people. We're not just a town; we're a family. We celebrate together, eat together, and make memories together. That sense of community? You can't put a price on that!
So, there you have it, folks! Bathurst isn't just a small town; it's a whole vibe. History, heart, and a whole lot of happiness – that's what makes it the best small town to visit in South Africa. Come see for yourself, and trust me, you'll be planning your next trip back before you even leave! Welcome to the centre of the universe – Bathurst!
Recommendations for activities or places to visit within the town:
Bathurst, with its rich history, cultural landmarks, and natural wonders, offers a well-rounded experience for every traveller. Enjoy your exploration of this captivating South African town by visiting the following attractions:
The Big Pineapple:
You can't visit Bathurst and miss the Big Pineapple! A quirky and iconic attraction, it offers tours where you can learn about the pineapple industry and enjoy panoramic views from the top.
Bathurst Agricultural Museum:
Dive into the town's farming history at the Bathurst Agricultural Museum. It's a treasure trove of vintage farming equipment and tools, providing a fascinating glimpse into the agricultural heritage of the region.
Sunday Farmers' Market:
Experience the lively atmosphere of the Sunday Farmers' Market, where local vendors offer fresh produce, artisanal goods, and delectable treats. Engage with the friendly community, sample regional delicacies, and take home some of the best products Bathurst has to offer.
Bathurst Toposcope:
Don't miss th

e Bathurst Toposcope! Climb to the top of this stone tower to enjoy panoramic views of Bathurst and its picturesque surroundings. It's a perfect spot for taking photos and appreciating the town's beauty from above.
Old Powder Magazine:
Explore the historical Powder Magazine, a significant site from the British colonial era. This well-preserved building served as a storage facility for gunpowder and arms and offers a fascinating glimpse into Bathurst's military history.
Waters Meeting Nature Reserve:
Immerse yourself in the natural beauty of Waters Meeting Nature Reserve. Explore scenic trails, spot diverse wildlife, and enjoy picnics by the river. It's a perfect destination for nature enthusiasts and those seeking tranquillity.
Bradshaw's Mill:
Discover the charm of Bradshaw's Mill, a historic watermill that has been lovingly restored. Learn about traditional milling processes and the importance of this mill in Bathurst's past. It's a unique experience that showcases the town's industrial heritage.
St. John's Anglican Church:
Visit St. John's Anglican Church, a magnificent church that dates back to the 19th century. Marvel at its beautiful architecture and serene atmosphere, offering a peaceful retreat for visitors.
The Pig and Whistle Inn:
This historic inn, established in 1832, is one of the oldest continuously operating pubs in South Africa. It's a great spot to relax, enjoy local cuisine, and soak in the charming atmosphere.
Arts & Crafts:
Explore the creativity of Bathurst at Richard Pullen Pottery and The Workshop: Art & Craft Gallery. Admire unique pottery creations and local artworks, showcasing the talent of Bathurst's artisans. It's a great place to find handmade souvenirs and immerse yourself in the town's vibrant arts scene.
Remember, Bathurst's charm lies not just in specific attractions but in the overall atmosphere of the town. So, take your time, interact with the friendly locals, and immerse yourself in the relaxed and welcoming ambiance that makes Bathurst truly special.
Written by Leathicia Venter, 12th October 2023
submitted to the Daily Maverick for the competition: SA's Best Small Towns to Visit 2023 – www.dailymaverick.co.za/south-africas-best-small-town-to-visit. Please  vote and make Bathurst the winner!.